Dental Bridges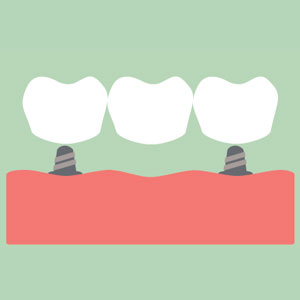 If you have a missing tooth or teeth, it can be a challenge to chew your food. Confidence can also suffer, as you may be reluctant to smile. A dental bridge can help restore your smile and something equally priceless-your confidence.
What Is It?
A dental bridge is an artificial tooth used to fill in the space left by a missing tooth. The bridge is held in place by two crowns, which are placed on the teeth adjacent to the missing tooth.
These fixed dental restorations are made from various materials, including porcelain, gold, and silver. Bridges can be used to improve the appearance of your smile and restore your ability to chew and speak properly. In addition, these restorations can help prevent the shifting of your other teeth.
What's the Procedure?
First, the dentist has to examine your mouth and the areas around the missing tooth to determine whether a dental bridge is appropriate for your situation.
If you are a good candidate for this type of dental restoration, the teeth on either side of the missing tooth-the ones that will provide the "anchors" for the replacement tooth-will be prepped for crowns.
An impression is taken so that the bridge fits perfectly into the space and blends seamlessly with your existing teeth. The first visit ends with the insertion of a temporary replacement tooth to protect the area until the permanent restoration is ready.
At your next and final visit, the permanent bridge is securely cemented into place.